Current activities
8th PhD-Student Workshop on Polymer Reaction Engineering
The 8th PhD Student Workshop on Polymer Reaction Engineering was held in Hamburg, Germany on 14-16 June 2019.
Final Programme
For details see "Workshop"
---
Business Meeting
PhD Student Workshop of the WPPRE

1 PhD Student Workshop of the WPPRE

The PhD student workshop of the EFCE Working Party on Polymer Reaction Engineering (WPPRE) represents an international platform where young academics in the field of Polymer Reaction Engineering can build up valuable networks. It is an opportunity to meet fellow PhD students and to get in contact with representatives from industry.
In 2012 Professor Dr. Markus Busch from the Technical University of Darmstadt took over the chair of the WPPRE. Since then four workshops have been organized ('12 in Lyon, '13 in Hamburg, '14 in San Sebastian, '15 in Fürstenfeldbruck, '16 in Hamburg, '17 in Vienna, and '18 in Prague). They have been primarily directed to PhD students from universities all over Europe, giving them a chance to talk about the latest results of their work by means of short oral and poster presentations. In return they were able to benefit from helpful feedback and suggestions of the audience.
For the future we would like to perpetuate the workshop as an annual event and by that establish a continuous scientific exchange between research groups on Polymer Reaction Engineering. The recent WPPRE workshop took place from 14 to 16 June 2019 in Hamburg, Germany.


---
2 Topics
Topics being discussed at the WPPRE workshop are current advances in the field of
Emulsion polymerization
Gas-phase polymerization
Polymerization kinetics
Modelling of polymerizations
Atom Transfer Radical Polymerization
High Pressure Polymerization
Particle formation
Polymer foaming
Plant design.
This of course also includes know-how of analytical methods and techniques for medium and high pressures.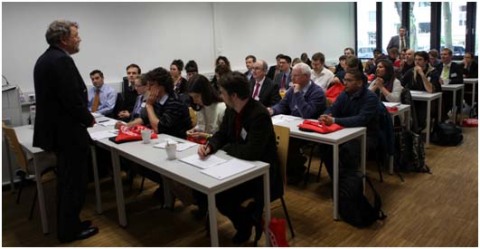 Impression of the WPPRE meeting in Hamburg. Welcome speech delivered by
Professor Dr. Moritz (University of Hamburg)

Time for discussions during the poster session in Lyon 2012


---
3 Social Events
Besides the hard work to be invested in the poster and oral presentations there will be time for intercultural exchange on a more private basis. The last two years lunch and dinner was kindly sponsored by industry giving the participants the possibility to get to know each other in a relaxed atmosphere.
Furthermore one day of the workshop is reserved for the closing ceremony and a joint activity in which one gets to see a little bit of the hosting city.

---
Upcoming Workshop 2019
The 8th PhD Student Workshop on Polymer Reaction Engineering is going to be held from 14 to 16 June 2019 in Hamburg, Germany, as a direct follow-up event to the 13th International International Workshop on Polymer Reaction Engineering (PRE 2019)

Download the FINAL PROGRAMME here!

Venue
Hamburg, Germany

Registration is closed

Accommodation
Detailed information will follow soon.

Language
The official language of the workshop will be English.

Course fee
The registration fee is 100 EUR. It covers the attendance, course material and the participation in the social events.

Method of payment
After you have registered and been accepted for a workshop contribution, you will receive a personalized invoice.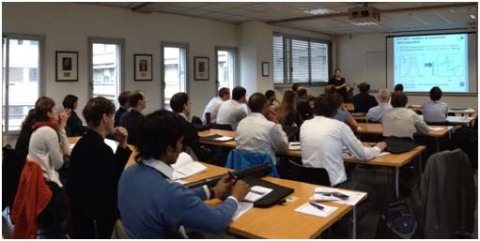 Getting to know the research of fellow PhD students
Previous activities
PREVIOUS PhD WORKSHOPS
organised by the EFCE Working Party on Polymer Reaction Engineering - WPPRE
Year
Date & Venue / Flyer & Programme

2019


8th PhD-Student Workshop on Polymer Reaction Engineering
Hamburg, Germany, 14-16 June 2019


2018

7th PhD-Student Workshop on Polymer Reaction Engineering
Prague, Czech Republic, 31 August - 2 September 2018

2017

6th PhD-Student Workshop on Polymer Reaction Engineering
Vienna, Austria, 8-10 September 2017

2016

5th PhD-Student Workshop on Polymer Reaction Engineering
Hamburg, Germany, 20-22 May 2016

2015

4th PhD-Student Workshop on Polymer Reaction Engineering
Fürstenfeldbruck, Germany, 30 October - 1 November 2015

2014

3rd PhD-Student Workshop on Polymer Reaction Engineering
San Sebastian, Spain, 12-14 September 2014

2013

2nd Workshop on Polymer Reaction Engineering
Hamburg, Germany, 24 - 26 May 2013 

2012

1st Workshop on Polymer Reaction Engineering
Lyon, France, 12 October 2012