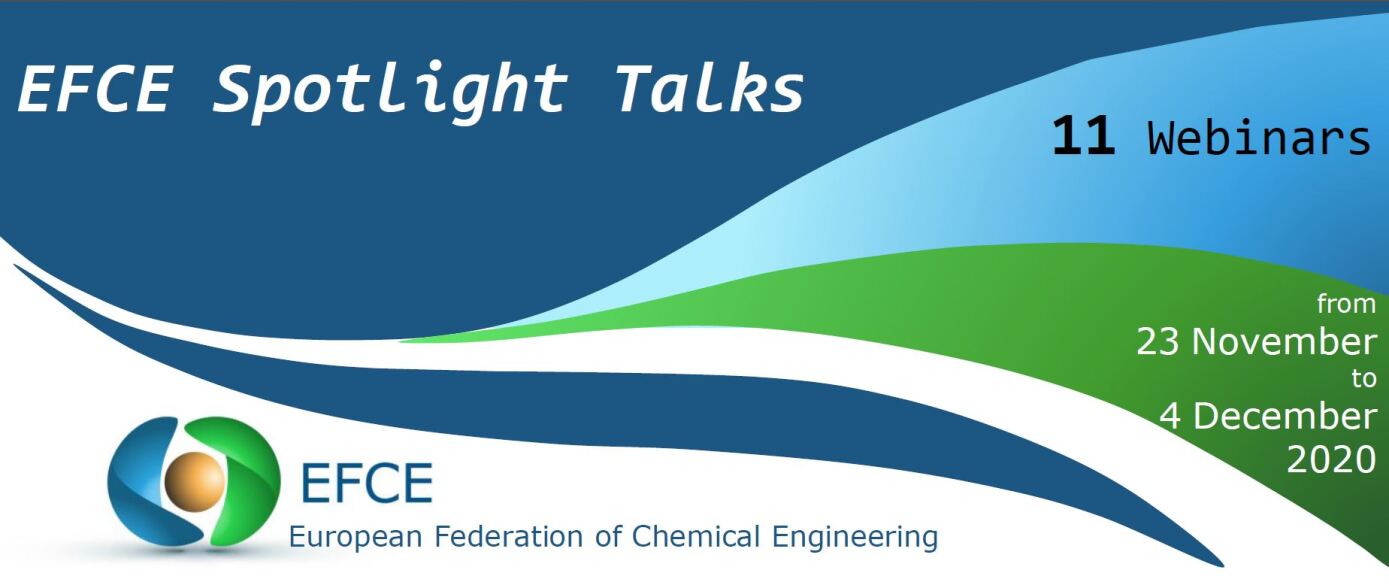 Invitation
The European Federation of Chemical Engineers (EFCE) is organising a series of free virtual spotlight talks on significant topics in Chemical Engineering. Eleven of our technical groups (Working Parties and Sections) are delivering short sessions of three or four talks by
leading industrial and academic experts on:
Chemical Reaction Engineering, Education, Energy, Loss Prevention and Safety Promotion, Mechanics of Particulate Solids, Mixing, Multiphase Fluid Flow, Process Intensification, Quality by Design, Static Electricity in Industry, Thermodynamics and Transport Properties.
Each session will focus on key topics in the area and the series enables attendees to sample topics in areas that they find interesting but may not otherwise have had the opportunity to attend to encourage cross fertilisation between specialist areas.
Energy talks will address the role of carbon capture and storage as we move to a negative carbon society bringing a Chemical Engineering approach to the discussion. It will discuss also the role of process integration for deep decarbonization and energy transition in industry.The Thermodynamics webinar will focus on thermodynamic tools for CO2 capture. The Chemical Reaction session will address the role of electrification in the chemical industry. Quality by Design will discuss tools for the optimization of (bio)pharma processes such a system modelling, machine learning and digital twins. The Multiscale Flow and Mixing session will explore a promising modelling approach using of macroscale "compartments" which differ in certain properties of the flow, concentration and particle characteristic while the Mechanics of Particulate Solids considers common problems with conventional solid materials and renewable feedstocks. Process Intensification will focus on embedding life long learning of this now relatively mature topic. Electrostatics in Industry will discuss some specific cases where practical lessons can be drawn. Loss Prevention and Safety discusses resilience and safety of industrial clusters. Education session will focus on the changes brought about by Covid-19 on teaching methods and the new tools put in place.
The EFCE promotes scientific collaboration and supported the work of chemical engineers and collaborating professionals in 30 European countries representing more than 100,000 chemical engineers in Europe. With its Working Parties and Sections it covers all areas of Chemical Engineering.
EFCE's Working Parties & Sections are at the core of the organisation and form the scientific engine that drives many of EFCE's activities. Each of its 20 Working Parties focuses on a specific aspect of Chemical Engineering. They provide an important forum for networking among chemical engineers in Europe. Membership to the Working Parties is drawn from among EFCE's Member Societies. The five Sections are open to any professional chemical engineer, or a specialist in a related field, who is willing to contribute to the activities of an EFCE Section and of the Federation.
---
Programme and Recordings
Recordings of the Spotlight Talks are available on the EFCE YouTube Channel