E-Newsletter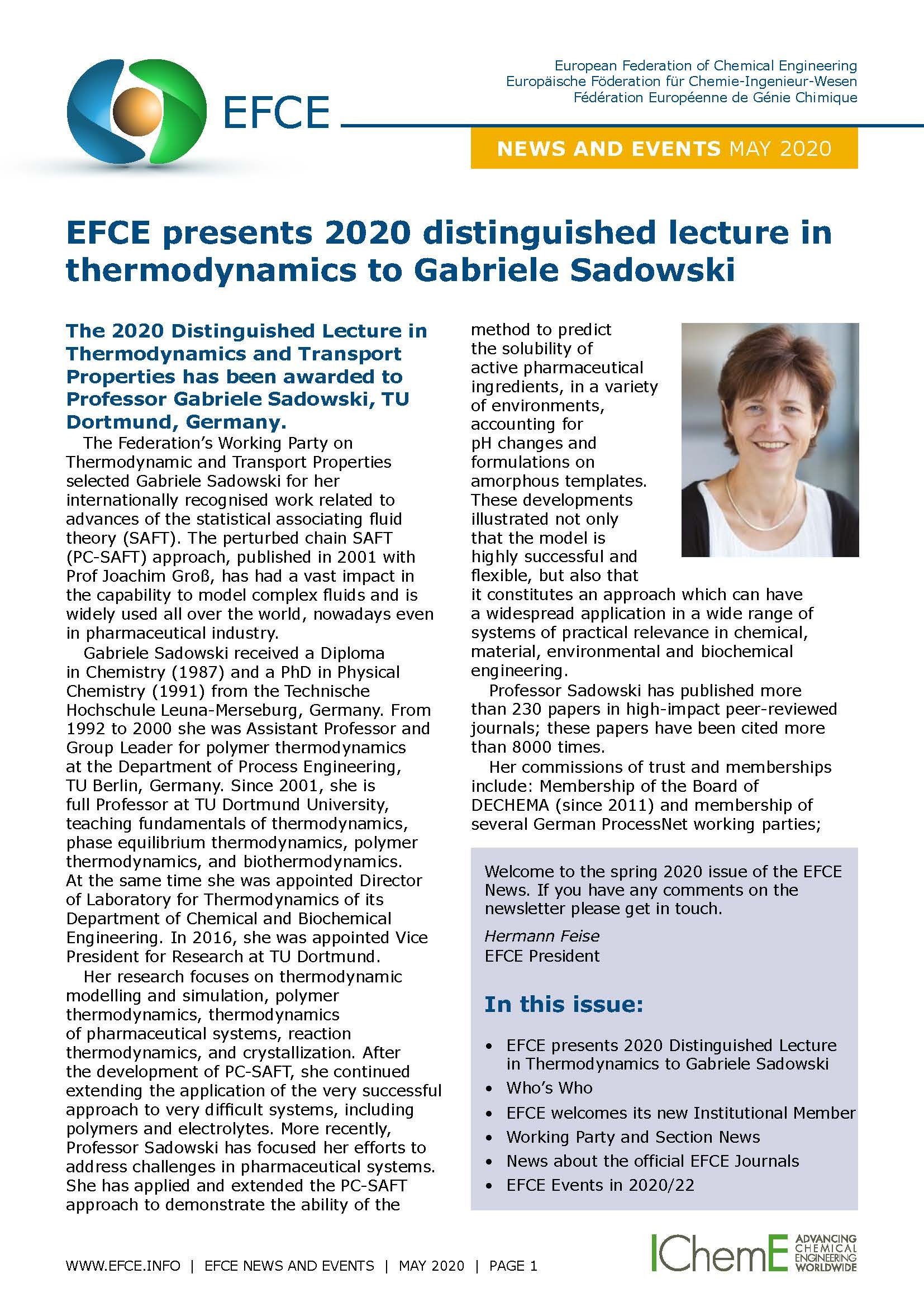 ---
Dear members of EFCE,
Hello and welcome to the second issue of the EFCE newsletter in 2020.
So much has changed in the past three months, it's hard to know where to start.
Where back in February we were very excited to be inviting everybody to a new-look Chisa in the summer, we're sorry to inform you that the event has now been postponed, and is likely to take place in January 2021. Many other conferences planned for this year have also been rescheduled. Please look inside for all the changes and new dates.
We are delighted to reveal that Gabriele Sadowski has been chosen to present the 2020 distinguished lecture in thermodynamics – but again, the actual event will now not take place until summer 2021.

We are equally pleased to welcome two new vice-chairs to the WP on Thermodynamics and Transport Properties, and you might like to know that EFCE has a new institutional member. If you want to find out more, check the attached newsletter for details.
Lastly, we wanted to let you know that a significant amount of content in our journals is currently open access for a limited time. This includes special issues on nature-inspired chemical engineering and climate change research, and the January issues of each of the five IChemE / EFCE journals - Chemical Engineering Research and Design, Process Safety and Environmental Protection, Food and Bioproducts Processing, Education for Chemical Engineers and Sustainable Production and Consumption. Further details and links are inside.
Meanwhile, I hope that wherever you are you stay safe, look after yourself and your loved ones, and we look forward to seeing you again in person when and where we can.
Best regards
Claudia
---
Here you will find the previous E-Newsletters