E-Newsletter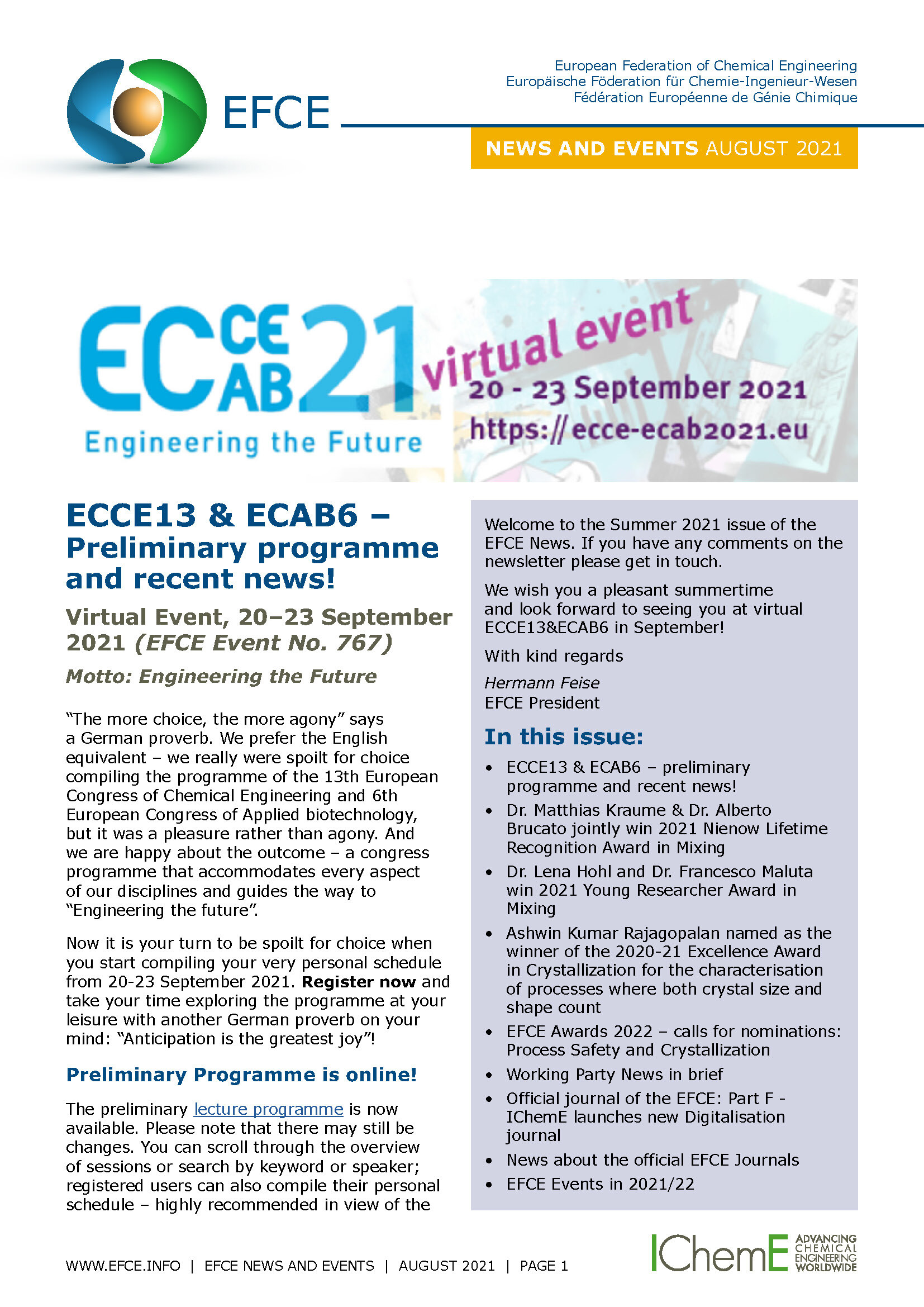 ---
Dear members of EFCE,
Hello and welcome to the latest EFCE newsletter.
I hope this edition finds you enjoying a deserved mid-year break, regardless whether it's a vacation or a stay-cation. While you relax, here are a few highlights you might like to read more about:
The preliminary lecture programme for ECCE13 & ECAB6 is now online. Register now and start compiling your personal schedule for the virtual conference. There's also full student and PhD programme, if you're interested. Further details and links are in the newsletter.
Turning to our awards, Dr. Matthias Kraume & Dr. Alberto Brucato have been confirmed as joint winners of the 2021 Nienow Lifetime Recognition Award in Mixing. Dr. Lena Hohl and Dr. Francesco Maluta have won the 2021 Young Researcher Award in Mixing, while Ashwin Kumar Rajagopalan has been named winner of the 2020-21 Excellence Award in Crystallization.
The call for nominations is now open for the 2022 Excellence Award in Process Safety, the Lifetime Recognition Loss Prevention Symposium Award, and the 2022 Excellence Award in Fluid Separations.
A new journal has been launched by IChemE, with the support of EFCE. Digital Chemical Engineering is an open access journal published by Elsevier and jointly edited by Professor Jin Xuan (Loughbrough University) and Professor Jinfeng Liu (University of Alberta). The journal will not charge any Article Processing Charges for the first year.
I hope this is enough to keep you going for now, whether you're sweltering in the office, weeding the garden, or dipping your toes in the pool.
Best regards
Claudia
---
Here you will find the previous E-Newsletters