E-Newsletter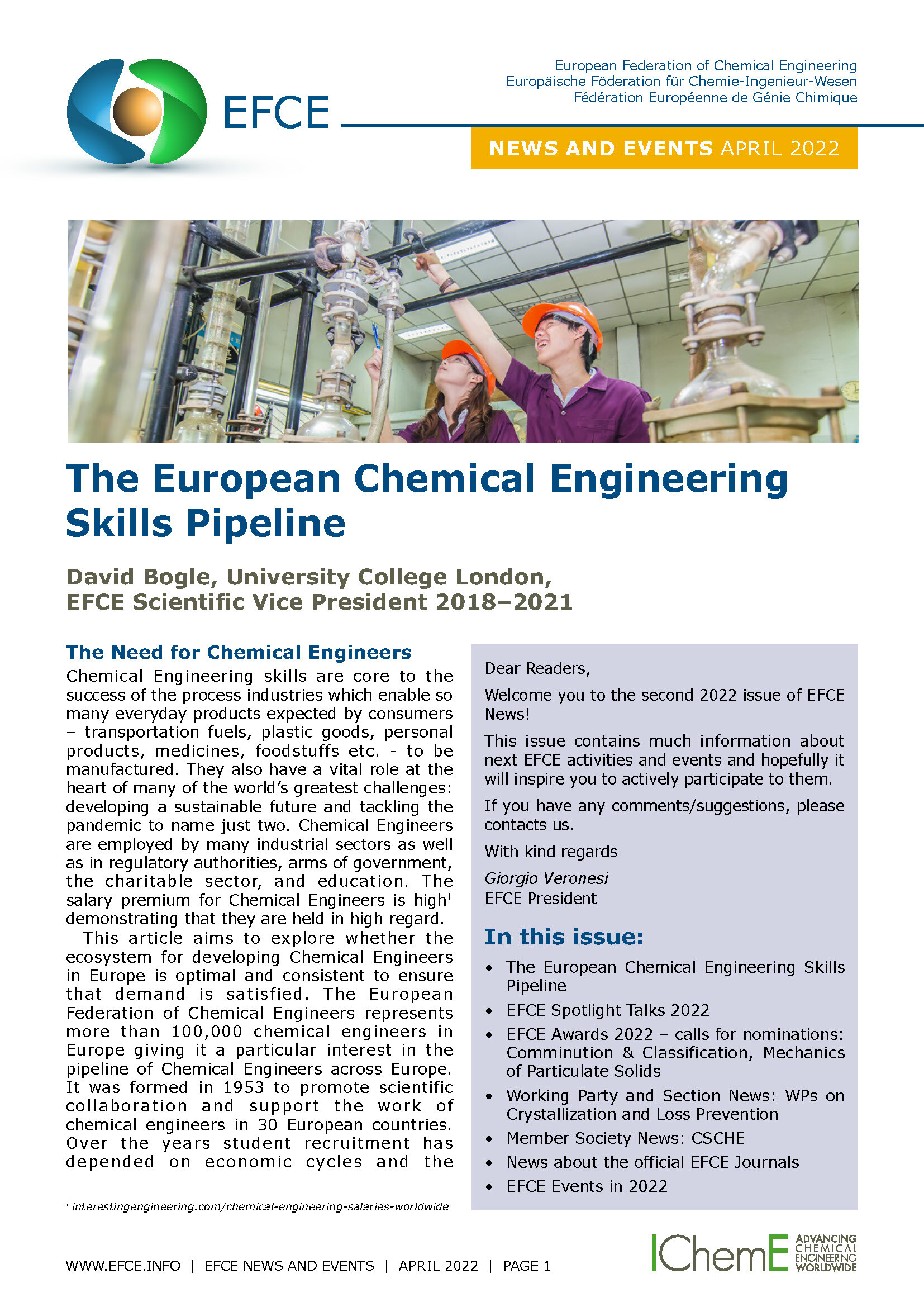 ---
Dear members of EFCE,
Hello and welcome to the latest issue of the EFCE newsletter.
In this issue, we are very pleased to be sharing with you a report on the European chemical engineering skills pipeline, by EFCE's former scientific vice president David Bogle. It presents data on the number and age of chemical engineering teaching staff across Europe, the number of students and graduates in each country, the data on which was kindly supplied by many EFCE member societies. The data shows a diverse picture across Europe, with buoyant student numbers but a concerning picture of ageing teaching staff in some areas. It is hoped that the work will not only celebrate good practice but also help member societies and universities argue for more academic recruitment where required. You will find the full report in the newsletter.
We also look forward to our next instalment of EFCE's popular Spotlight Talks webinar series. Seven EFCE working parties and one Section have agreed to host eight webinars from 19-29 April. Attendance is free, so register now.
The Working Party on Comminution and Classification is inviting nominations for the first ever EFCE Excellence Award in Comminution and Classification. Nominations close on 30 April – the same day as the Excellence Award in Mechanics of Particulate Solids.
Lastly, read inside for a roundup of news from the working parties and member societies. From the upcoming International Symposium on Loss Prevention, the 2022 Summer School on Crystallisation, the 26th International Congress of Chemical and Process Engineering (CHISA), to the latest on the EFCE journals and other events organised by or on behalf of EFCE.
I hope you find this a useful and informative read and we hope to see you soon at one of the many EFCE events and activities.
Kind regards,
Claudia
---
Here you will find the previous E-Newsletters