E-Newsletter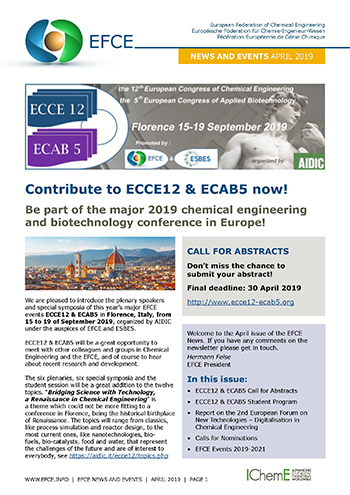 ---
Dear members of EFCE,
Hello and welcome to the April 2019 issue of the EFCE newsletter.

At this time of year, we are particularly looking forward to the European Congress of Chemical Engineering (ECCE12), which together with the European Congress in Applied Biotechnology (ECAB5) takes place in Florence in September this year.
If you haven't already submitted your abstract, this is your very last chance. The deadline has been extended to end of April but will not be extended any further beyond this.
The conference has a particularly fine lineup of plenary speakers, including Scott Fogler, Flavio Manenti, Immaculada Ortiz Uribe, Jürgen Pleiss and Marinke Wijngaard. In addition, the conference incorporates five mini workshops and symposia, catering for a wide variety of interests and specialities. Don't miss out and register now!
ECCE aside, this news brings you a report of the recent one day meeting on digitisation in chemical engineering, and a call for nominations for the 2019 Student Mobility Award, which has been extended to 15 April.
See you in Florence?
Claudia
---
Here you will find the previous E-Newsletters