E-Newsletter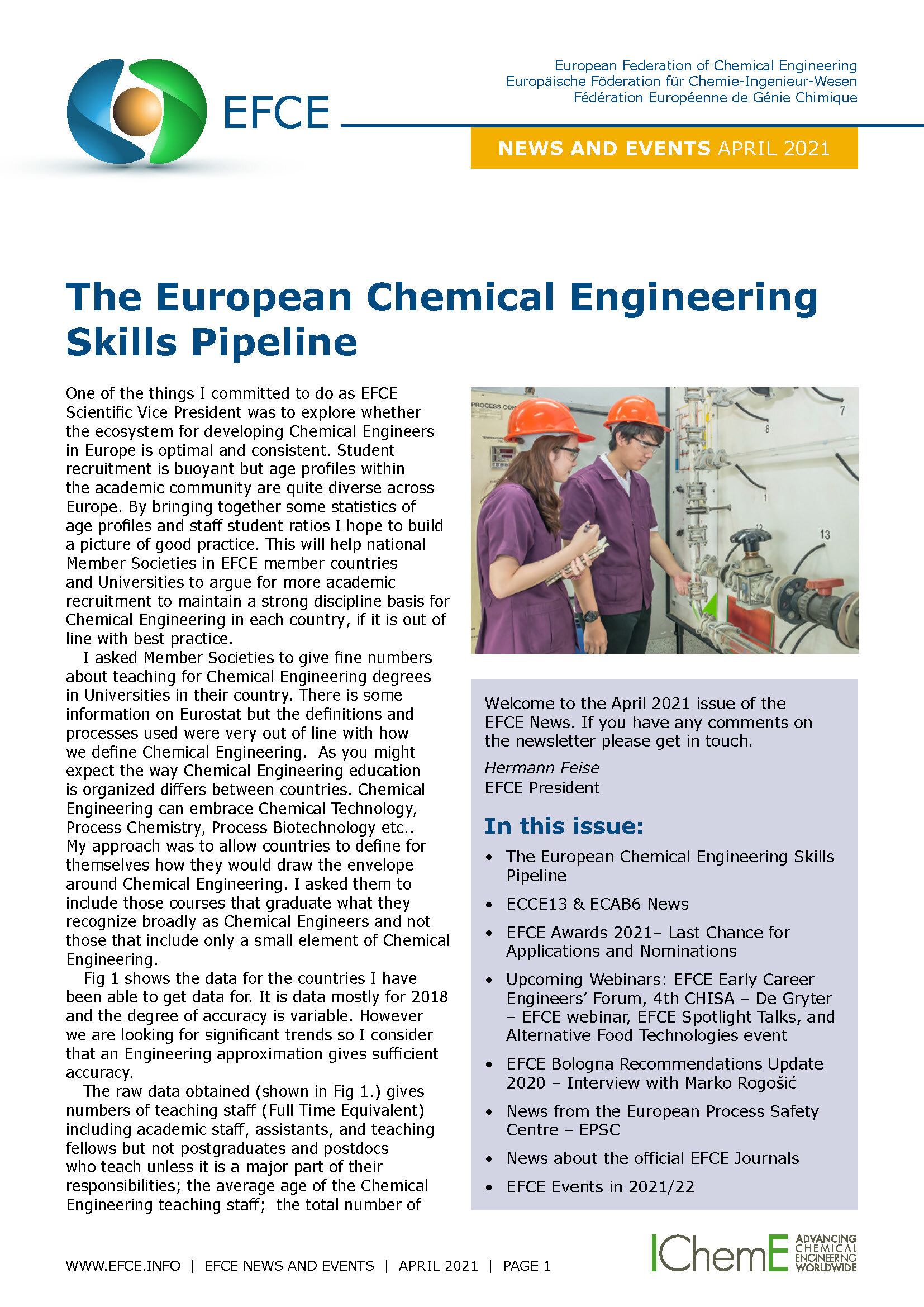 ---
Dear members of EFCE,
Hello and welcome to the April EFCE newsletter
The highlight of this issue is the early publication of our report on the European chemical engineering skills pipeline, prepared by David Bogle, EFCE's scientific vice president. David used EFCE's links into national member societies across Europe to obtain statistics illustrating the health of chemical engineering education, comparing student recruitment, age profiles of academic staff, and a comparison of staff-student ratios. Obtaining and comparing the data has not been without its challenges, not least because of the differences in how chemical engineering is defined and organized between different countries. While some of the analysis is still ongoing, I believe you will find the data he obtained so far makes for fascinating reading. We hope you will be able to use it to inform chemical engineering education in your country.
The newsletter also includes an update on ongoing preparations for ECCE/ECAB 21, which will be held as a virtual event in September. With 2000 expected attendees and no less than 17 satellite events, there will surely be something for everyone. Registrations open at the beginning of May.
If you cannot wait that long, then you can join us for the next iteration of our popular Spotlight Talks webinar series. From 17-21 May, EFCE Working Parties and Sections invite you to a range of sessions on process safety, process intensification, chemical reaction engineering and more.
Lastly, we have further news on how the updated Bologna recommendations prepared by EFCE's Working Party on Education are being used, particularly in Croatia, and we have a roundup of the latest Excellence Awards.
Wishing you happy reading,
Claudia
---
Here you will find the previous E-Newsletters