Current activities
Business meeting
Vision and Mission of the Section
Vision
The Sustainability Section of the EFCE envisions a sustainable process industry in the European context where economically sustainable companies operate with minimal ecological impact while delivering maximum social benefit through its products and services, as well as providing a safe and inspiring work environment. It also envisions a vibrant innovation climate within the professional community of chemical engineers based on cutting edge research. The Sustainability Section recognizes the pivotal role of chemical engineering knowledge for the transformation of the European society towards sustainable development and foresees a particular role for chemical engineers as scientific as well as societal change agents, supporting this transformation in the economic, social and political arena at the national, European and international levels.

Mission
The mission of the Sustainability Section is:
to provide a discourse platform within the EFCE on opportunities and challenges that sustainable development poses to the professional community of chemical engineers in Europe;
to pool the considerable knowledge within EFCE members with regard to a sustainable process industry as well as management of natural resources, environmental protection and socio-economic sustainability;
to identify and co-operate with key actors and allies for the transformation of European society towards sustainable development;
to provide decision makers in business, society and politics with reliable knowledge support based on scientific insight and industrial experience in all fields of interest to the process industry ; and
to facilitate education of a new generation of chemical engineers as well as current engineers and decision makers in the process industry to meet the challenges of the transition towards a sustainable process industry.

Position paper
For more details on the Section, download the position paper here.

Section Structure
The broad agenda of the section requires the co-operation of experts in interdisciplinary sub-sections that deal with the chemical engineering aspects of the Grand Challenges our profession faces. The figure below shows the work structure of the Section, the interactions as well as the leaders of these sub-sections.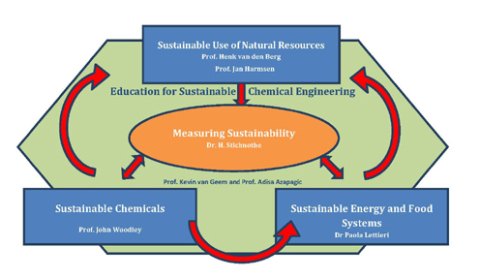 Sub-Sections
Sustainable use of natural resources
Leader: Prof. Henk van den Berg (University of Twente)
Sustainable chemicals
Leader: Prof. John Woodley (Technical University of Denmark)
Sustainable energy systems
Leader: Prof. Richard Darton (University of Oxford)
Sustainable food systems
Leader: Dr. Almudena Hospido (University of Santiago de Compostela)
Measuring sustainability
Leader: Dr. H. Stichnothe (Thünen Institute of Agriculture)
Sustainability education
Leaders: Prof. Kevin van Geem (University of Gent) and Prof. Adisa Azapagic (University of Manchester)
Section members

Dr. Manuel Alvarez Guerra, Santander, Spain
Prof. Dr. Aleksandar Anastasovski, Skopje, Macedonia
Prof. Dr. Lise Appels, Heverlee, Belgium
Prof. Dr. Adisa Azapagic, Manchester, United Kingdom
Prof. Dr. Henk van den Berg, AE Enschede, Netherlands
Dr. Saikat Chakraborty, Kharagpur, India
Prof. Richard C. Darton, Oxford, United Kingdom
Mr. Robert Aled Davies, Lubrin, Spain
Mr. Gareth Davis, Lymm Cheshire, United Kingdom
Prof. Dr. Raf Dewil, Heverlee, Belgium
Prof. Dr. Mario Diaz, Oviedo, Spain
Dr. Antonio Domínguez Ramos, Santander, Spain
Prof. Dr. Felix Garcia-Ochoa, Madrid, Spain
Prof. Dr. Kevin Van Geem, Gent, Belgium
Prof. Dr. Atze Jan van der Goot, Wageningen, Netherlands
Dr. Ir. A.G.J. van der Ham, Enschede, Netherlands
Dr. Francisco Jose Hernandez Fernandez, Cartagena, Spain
Dr. Almudena Hospido, Santiago de Compostela, Spain
Prof. Dr. Konstantinos Kakosimos, Doha, Qatar
Prof. Dr. Jiri Klemes, Veszprém, Hungary
Dr. Paola Lettieri, London, United Kingdom
Dr. Sebastien Leveneur, Saint Etienne du Rouvray, France
Dr.-Ing. Philip Lutze, Dortmund, Germany
Dr. Xavier Montagne, Rueil Malmaison Cedex, France
Prof. Dr. Edward Muntean, Cluj-Napoca, Romania
Prof. Dr. Michael Narodoslawsky, Graz, Austria
Prof. Carlos Manuel Negro Alvarez, Madrid, Spain
Dr. Antonia Perez de los Rios, Murcia, Spain
Assoc. Prof. Dr. Ben-Guang Rong, Odense, Denmark
Prof. Francesco Santarelli, Bologna, Italy
Assoc. Prof. Dr. Gürkan Sin, Kongens Lyngby, Denmark
Mr. Olusegun Sodeinde, Lagos, Nigeria
Dr. Heinz Stichnothe, Braunschweig, Germany
Prof. Dr. Alessandro Tugnoli, Bologna, Italy
Mr. Mark White, Cork, Ireland
Prof. Dr. John M. Woodley, Lyngby, Denmark
Mr. Mahmood Yassine, Ben Guerir, Morocco
Mr. Arend Jan Zeeuw, Everberg, Belgium
Previous activities
ISPCC 2018 - International Conference on Sustainable Production and Consumption
Manchester, UK, 4-5 October 2018
ICOSSE '17 - International Congress on Sustainability Science and Engineering
Barcelona, Spain, 2-4 October 2017
2nd Symposium on Sustainability: Sustainable Management of Natural Resourcesincluded in ECCE10
Nice, France, 27 September - 1 October 2015
2015 International Congress on Sustainability Science & Engineering - ICOSSE '15
Balatonfüred, Hungary, 26-29 May 2015 (EFCE Event No. 732)
CHISA Special Symposium:
Sustainable process industry - bright future for chemical engineers
24 August 2014, Prague, Czech Republic
International Conference on Sustainable Production and Consumption
Manchester, UK, 4-5 October 2018