Current activities
Spotlight Talks


---
Business Meeting
History and Mission of the Working Party
History
The Working Party (WP) on High Pressure Technology (HPT) of the European Federation of Chemical Engineering (EFCE) was established in 1988. Prof. Gerhard Vetter (University of Erlangen, Germany) was one of the founders of the WP HPT. The chairmen of WP HPT were as follows:
| Chair | Term of office |
| --- | --- |
| Prof. Dr. Gerhard Vetter (Erlangen, Germany) | 1988 - |
| Prof. Dr. Helmut Tiltsher (Munich, Germany) |   |
| Prof. Dr. Gerhard Vetter (Erlangen, Germany) |   |
| Prof. Dr. Alberto Bertucco (Padova, Italy) | 1997 - 2003 |
| Prof. Dr. Željko Knez (Maribor, Slovenia) | 2003 - 2010 |
| Prof. Dr. Eberhard Schlücker (Erlangen, Germany)  | 2010 - 2021 |
| Prof. Dr. Maria José Cocero Alonso (Valladolid, Spain) | since 2021 |
Europe has been the cradle of high pressure technology in the 20s and 30s when most relevant high pressure chemical processes and plants were developed. The special scientific and technical knowledge required in this respect became a precious technological heritage of European Conutries. In the last two decaded the demand expertise in the field has increased considerably: both academic and industrial researchers from different ares (chemists, physicists, biologists, pharmacists, food technologists) have been involved in projects about high pressure applications to new processes and products.

---
Aims and objectives
Aims and objectives of the WP HPT are:
operation, coordination, promotion and advancement of high pressure research activities within Europe and co-operation activities beyond

active collaboration in the organisation of thematic sessions on HPT

coordination of international scientific events organised in Europe in the field of high pressure technology

establishment of closer co-operation within high pressure research groups at university and industry from different areas

education of phD students, researchers from universities and industry in the fundamentals and applications of high pressure technology in chemical and process industry: organisation of an intensive course.

active participation in the initiatives of the EFCE advisory board about DSCPT
Nowdays, the WP HPT has 21 members from 13 different countries , which hold one technical meeting per year, and are present at different events dealing with high pressure technology: international conferences, meetings, symposiums and other.
The WP contribution to Development of Sustainable Chemical and Process Technologies (DSCPT) involves substitution of organic solvents by the use of harmless compressed gasses, i.e. water and carbon dioxide at high pressure, in many applications of the chemical, food, pharmaceutical, biochemical, cosmetic, materials industries.
"High pressure is a wonderful tool to develop new processes and products".
Events
ESS-HPT "The European Summer School in High Pressure Technology"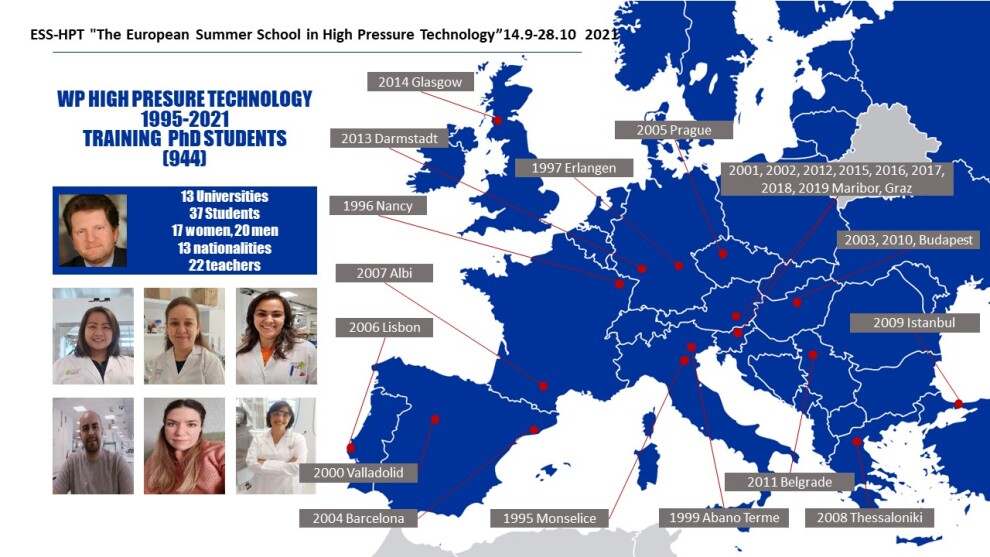 ---

The members of WP HPT were present at following events:
ConferenceS
Publications
High Pressure Process Technology: fundamentals and applications
Edited by:

A. Bertucco
Universita di Padova, Facolta di Ingegneria,
Via F. Marzolo 9, 35131 Padova PD, Italy
Email: Contact

G. Vetter
Universität Erlangen-Nürenberg, Lehrstuhl für Apparatetechnik und Chemiemaschinenbau,
Gauerstrasse 4, 91058 Erlangen, Germany

Hardbound, 684 pages, publication date: OCT-2001 (e-Book available, too)
ISBN-13: 978-0-444-50498-2
Imprint: ELSEVIER

For ordering (print and/or e-book) see: https://www.elsevier.com/books/high-pressure-process-technology-fundamentals-and-applications/bertucco/978-0-444-50498-2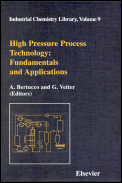 Clear evidence of increasing demands in the processing industry prompted the editors and authors to publish a new book about High Pressure Process Technology: Fundamentals and Applications.
This book presents the latest knowledge regarding the high pressure processing aspects combined with that about the modeling, the design and the operation of safe and reliable high pressure plants and equipment. This treatment and selection of the subjects is stimulating and unique. Consisting of nine chapters, each subdivided into several sections, the book addresses the high pressure aspects, providing well selected correlated information connected with a comprehensive overview together with a large number of references.
The main body of the first eight chapters refers to subjects like high pressure in general, the thermodynamics and kinetics of the fluids involved, the design of high pressure equipment, the modeling and design of reactors, separation and fractionation units, the safety aspects, the control and economics.
In the extended last chapter, examples of promising high pressure applications are explained, such as chemical and enzymatic reactions in supercritical solvents, hydrogenation under supercritical conditions, supercritical water oxidation, polymerization with metallocene catalysts, supercritical extraction, fractionation and precipitation, supercritical pharma processing, ultra-high pressure sterilization and supercritical dry-cleaning.
 
Audience:
For all those interested in high pressure process technology, including chemical engineers, process engineers, pharmaceutical technologists, food technologists and bio-technologists.

Contents:

Chapter headings.
Selected papers.
Preface. Contents.List of Contributors.
Introduction.
High pressure: definitions and examples in nature. Early historical roots of high pressure technology. High pressure technology today - motivations for using high pressure. High pressure technology today - application survey and examples.
Thermodynamic Properties at High Pressure.
Introduction.Phase equilibria. Calculation of high pressure phase equilibria. Chemical reaction equilibria. Experimental methods.
Kinetic Properties at High Pressure.
Interesting features at high pressure. Kinetics of high pressure reactions. Measurement of chemical kinetic data at high pressure. Transport properties.
Design and Construction of High Pressure Equipment for Research and Production.
High pressure machinery. High pressure piping equipment. High pressure vessels and other components. Instrumentation of high pressure facilities.
Industrial reaction units.
Reactors for homogeneous reactions. Hydrodynamics and mass transfer in fixed-bed gas-liquid-solid reactors operating at high pressure. Slurry catalytic reactors. Catalytic reactors for olefin polymerizations.
Separation Operations and Equipment.
Pressure distillation. Packed towers: random and structured packings.Tray columns.Trays or packings? Conclusions for pressure distillation. Extraction from solids.Extraction from liquids.
Safety and Control in High Pressure Plant Design and Operation.
General safety aspects in high pressure facilities.Runaway of polyethylene reactors.Safety in high pressure extraction plants.
Economics of High Pressure Processes.
High pressure extraction plants. High pressure polymerization of ethylene. Precipitation by supercritical antisolvent.
Applications.
Chemical reactions in supercritical solvents (SCFs). Enzymatic reactions. Hydrogenation under supercritical single-stage conditions. Supercritical water oxidation (SCWO). Application to industrial wastewater treatment. High pressure polymerisation with metallocene catalysts. Supercritical fluid extraction and fractionation from solid materials. High pressure polymer processing. Precipitation of solids with dense gases.Pharmaceutical processing with supercritical fluids. Treating microorganisms with high pressure. Dry cleaning with liquid carbon dioxide. References.