Current Activities
Business meeting
Mission of the Working Party

Background
The characterization of disperse (particulate) systems, referred to as particle measuring technology (PMT), is a specialized interdisciplinary field with a strong physical orientation affiliated to process engineering.
Disperse systems are described in the first instance by their particle size distribution (PSD); however, they can have very complex, multidimensionally distributed properties. In a particle collective, each individual particle can already be classified as a disperse system in its own right (e.g., agglomerate). Properties such as material composition, internal structure, shape, surface, size, volume, color, refractive index, magnetizability, density, porosity, dielectricity and strength but also properties of state such as position (in the sense of local concentration), speed, momentum and temperature are as a rule neither completely independent nor strongly correlated.
The physical effects in regards to measurement and sampling may depend on several, if not all, properties to a greater or lesser degree with the result that in practice for determining the target parameter the primary signal is evaluated only with the aid of assumptions, simplifications and models. If the measurement is based on a collective signal, as a rule a rather complicated inversion problem exists to obtain said distributed parameter.
All the partial aspects of a measurement, for example sampling, sample preparation, measuring effect, sensor, measurement system, evaluation, presentation/visualization, interpretation, use and process connection are collectively known as application.
The need for particle measurement technology results from various situations with very different requirements in some cases, as for example
on-line PMT for process control
off-line PMT without delay for continuous monitoring of the process
random, continuous or complete monitoring of the product quality
safety-relevant process monitoring
PMT for product and process development
PMT for process diagnosis
PMT for research projects
PMT for environmental and health protection
PMT for biological processes
PMT for nanoscale products

---
Mission Statement
Particle properties affect a wide variety of the materials encountered on a daily basis. Their size, shape and the charge of these particles influence how they behave. These traits, ranging from the texture of the food we eat, the efficacy of the pharmaceuticals we take and even to the stability of the buildings in which we live and work, are all size dependent.
The control and understanding of the size, shape and charge of materials in existence play a key role in the understanding and optimisation of their performance. It is vital that a chemical engineer involved in this topic has an excellent foundation in the creation and size reduction processes of these particles. The amount of time and focus spent on this topic within many degree programs is rather insignificant, lacking a significant amount of the material needed to equip an engineer from out of university for the challenges of "real industry".
The properties of the a chosen material can be assessed by a variety of measurement tools and devices, but which of these technologies are most suited for a particular application, and what considerations need to be taken into account in order to maximize the return on investment in such a device? How does an engineer investigating a particle-based problem determine if the existing equipment is the best solution, or rather a modification to this equipment (possibly via collaboration with a vendor) is necessary? These are all questions that an engineer working in this area has to face on a regular basis.
The aims of this EFCE Working Party are to provide help and solutions regarding particle systems by:
Fostering collaboration between the end users, industry leaders and academia on the current state of the art and means of characterising certain chemical processes;
Encouraging an increased focus on the characterisation of particulate processes within academia with regard to their relevance in industry;
Producing white papers and discussion documents on the key issues in this arena;
Encouraging the formation of a voluntary code of conduct provided by instrument manufacturers to provide key proof statements on specification points;
Promoting this niche of chemical engineering as an exciting and challenging career path for all EFCE members.
Conferences
EFCE WP ChoPS Workshop on Particle System Characterization at WCCE Barcelona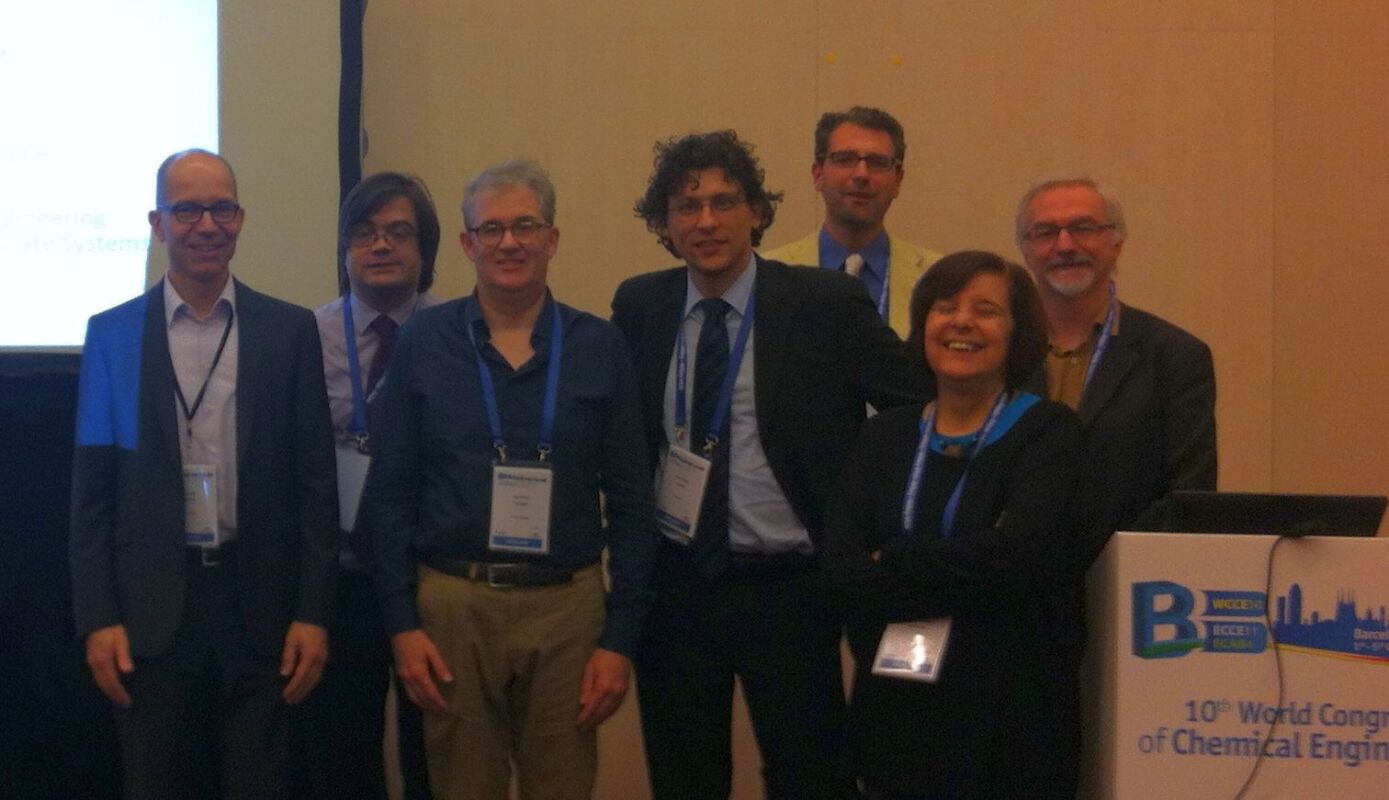 From left to right: Rainer Friehmelt, Steve Ward Smith, Richard Tweedie, Sebastian Mass, Martin Morgeneyer, Maria Rasteiro and Christophe Bressot