Principal activities of the Working Party
Organization of triennial International Symposium on Industrial Crystallization and specialized scientific meetings and workshops


Exchange of information about activities of national working parties on crystallization of the EFCE member countries

Fostering links to other working parties within EFCE which are active in adjacent areas, such as mixing, reaction engineering, filtration and separation, drying, agglomeration, comminution and classification, characterization of particulate systems

Evaluation and standardization of methods of measurement; definition of terminology, symbols and units in the field of industrial crystallization

Development of training at undergraduate and postgraduate level


---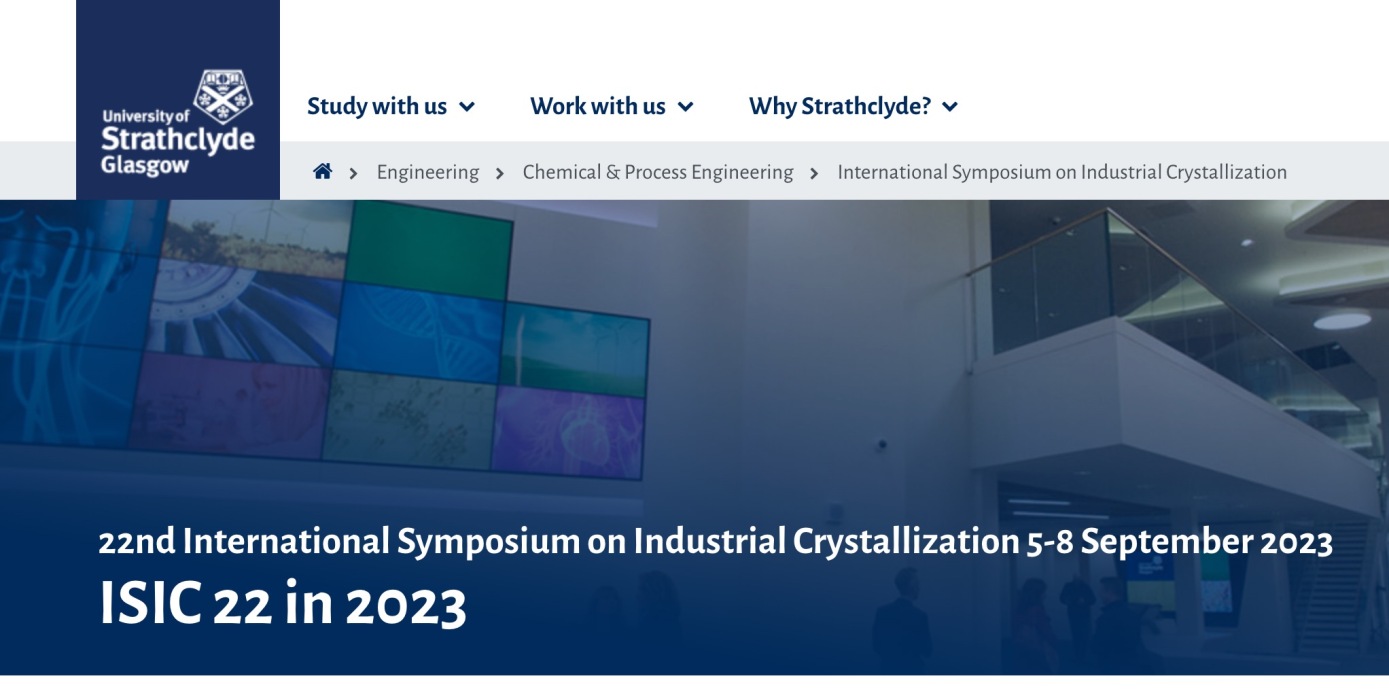 ---
28th International Workshop on Industrial Crystallization
The 28th International Workshop on Industrial Crystallization will be held in Stockholm (Sweden) on Aug 30-Sept 1 2023 (BIWIC 2023).
More information will be shared when available.
---
Objective of the Working Party

Advancement of the theory and practice of crystallization as it relates to the production of bulk crystalline materials ....
Working Party Events
International Symposium on Industrial Crystallization - ISIC
online, 30 August - 2 September 2021
EFCE Excellence Award in Crystallization

Launched in 2007, this triennial award has been instituted to recognise a PhD thesis or paper(s) of a scientist in an early stage of his/her career, who has made excellent contributions to the understanding or the industrial application of crystallization.
Previous activities

WPC Business Meetings


Minutes of the WP meetings:
2022 - Business meeting, online, 19 October 2022
minutes
2022 - Business meeting, online, 10 March 2022
minutes

2021 - Business Meeting, online, 15 December 2021
minutes

2014 - 49th Annual Meeting, Loughborough, UK, 16 April 2014
minutes
2013- 48th Annual Meeting, Basel, Switzerland, 11 April 2013
minutes
2012 - 47th Annual Meeting, Rome, Italy, 10-11 May 2012
minutes
2011 - 46th Annual Meeting, Zurich, Switzerland, 14 September 2011
minutes
2011 - 45th Annual Meeting, Porcheville, France, 5 April 2011
minutes
2010 - 44th Annual Meeting, Ludwigshafen, Germany, 24 March 2010
minutes
2009 - 43rd Annual Meeting, Zurich, Switzerland, 24 March 2009
minutes
2008 - 42nd Annual Meeting, Maastricht, The Netherlands, 16 March 2008
minutes
2007 - 41st Annual Meeting, Dublin, Ireland, 22 March 2007
minutes
2006 - 40th Annual Meeting, Toulouse, France, 6 April 2006
minutes
2005 - 39th Annual Meeting, Dresden, Germany, 11 September
minutes
---
Events


2022 Summer School on Crystallization
TU Dortmund, Germany, Wednesday June 29th – Saturday July 2nd, 2022
----
Spotlights Talks
29 April 2022: Role of crystallization in the production of battery materials and in battery recycling
> Recording (EFCE YouTube Channel)
26 November 2020: Electrification of the chemical industry
> Recording (EFCE YouTube Channel)