Upcoming and previous European Congresses of Chemical Engineering - ECCE
13th European Congress of Chemical Engineering (ECCE13)
together with the 6th European Congress of Applied Biotechnology (ECAB6)
virtually, 20-23 September 2021
Chemical engineering, biotechnology and bioprocessing are more important than ever to meet current challenges thus as climate change, circular economy or pharmaceutical production. To enable an international scientific exchange despite restrictions that are expected to be still in place in September 2021, the 13th European Congress of Chemical Engineering and 6th European Congress of Applied Biotechnology from 20-23 September 2021 will go virtual!
We will exploit the opportunities a virtual event offers to stimulate a truly European and global dialogue among scientists from industry, university and research institutions from Europe and beyond. Promoting interdisciplinary exchange and the transfer from research to industrial applications, ECCE and ECAB cover the whole range of relevant topics from laboratory research via process development and chemical reaction engineering to challenges from industrial practice and overarching topics such as quality management and education.
A virtual poster exhibition with opportunities for discussion, interactive workshops and panel discussions as well as high-ranking plenary presentations complement the scientific programme.
NEWS:
The poster programme is online available

List of selected posters for Poster FlashTalks, see: https://ecce-ecab2021.eu/flashtalks.html

ScienceSlam speakers: https://ecce-ecab2021.eu/Programme+and+Speakers/Science+Slam.html

7 Teams will take part in the ChemCar competition: 3 from Indonesien, one from Iran, and 3 from Germany
Contact: DECHEMA, Germany
---
12th European Congress of Chemical Engineering (ECCE12)
together with the 5th European Congress of Applied Biotechnology (ECAB5)
Florence, Italy, 15-19 September 2019
EFCE Event
Contact: AIDIC, Italy

---
10th World Congress of Chemical Engineering (WCCE10)
together with the 11th European Congress of Chemical Engineering and the 4th European Congress of Applied Biotechnology (ECAB3)
Barcelona, Spain, 1-5 October 2017
EFCE Event
Contact: ANQUE, Spain

---
10th European Congress of Chemical Engineering (ECCE10)
together with the 3rd European Congress of Applied Biotechnology (ECAB3)
and the 5th European Process Intensification Symposium (EPIC5)
Nice, France, 27 September - 1 October 2015
EFCE Event No. 720

Contact: SFGP, France

---
9th European Congress of Chemical Engineering (ECCE9)
together with the 2nd European Congress of Applied Biotechnology (ECAB2)
and the 4th European Process Intensification Symposium (EPIC2013)
The Hague, The Netherlands, 21-25 April 2013
EFCE Event No. 709
Contact : ECCE9/ECAB2, c/o MCI Amsterdam, Jan van Goyenkade 11, 1075 HP Amsterdam, The Netherlands; Tel: +31 20 679 3411; Contact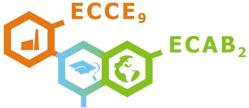 ---

---

---
6th European Congress of Chemical Engineering
Copenhagen, Denmark, 16 - 20 September 2007
EFCE Event No. 669
Contact: IDA, Denmark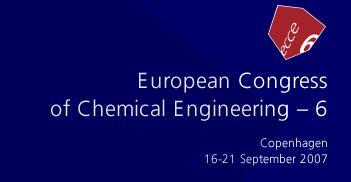 ---

7th World Congress of Chemical Engineering (WCCE7)
together with the 5th European Congress of Chemical Engineering
Glasgow, United Kingdom, 10-14 July 2005
Contact: IChemE, United Kingdom
---
4th European Congress of Chemical Engineering
Granada, Spain, 21-25 September 2003
Contact: ANQUE, Spain
---
3rd European Congress of Chemical Engineering (ECCE3)
Nuremberg, Germany, 26-28 June 2001
Contact: DECHEMA, e.V. Germany
---
2nd European Congress of Chemical Engineering (ECCE2)
Montpellier, France, 5-7 October 1999
Contact: SFGP, France
---
1st European Congress of Chemical Engineering (ECCE1)
Florence, Italy, 4-7 May 1997
Contact: AIDIC, Italy
---