Current activities
Business meeting
The next business meeting is planned to be held in September 2019 in Florence, Italy in conjunction with ECCE12&ECAB5.
---

Forthcoming Event of the Working Party
Workshop on Recent Advances in Bubble Columns
5 November 2019, Paris, France
The group 'Reactors & Intensification' of the French society of chemical engineering (SFGP) and the Working Party 'Multiphase Flows' of the European Federation of Chemical Engineering (EFCE) invite you to participate in a 1-day workshop on the recent scientific developments in the field of bubble columns and bubbly flows involved in chemical reactors. This event will bring together some of the principal experts in the field today and will be the opportunity to discuss the current challenges.
Download the Workshop Flyer here
Safe the date! Online registration will be available soon.
Events
Recent evenTS in the field


Working Party Awards
Working Party on Multiphase Fluid Flow presents poster award to Maria Zednikova
The EFCE Working Party on Multiphase Fluid Flow has named Dr.Ing. Maria Zednikova, Institute of Chemical Process Fundamentals of the CAS, Prague, Czech Republic, as the winner of the Poster Award 2018. The winning poster, "Experiments on bubble breakup induced by collision with vortex ring" (by M. Zednikova, P. Stanovsky, T. Travnickova, J. Vejrazka), was presented at the poster competition on fluid flow and multiphase systems at CHISA 2018.

The award jury commented that Zednikova's group had presented outstanding work that shows a novel experimental method to study the impact of flow structures on particle break-up. "The jury was especially impressed by Maria's detailed and inspiring explanations during the discussion at the poster", said Prof. Michael Schlüter, Chair of the Working Party on Multiphase Fluid Flow. EFCE congratulates Maria Zednikova and co-authors for their great success. The Poster Award carries prize money of EUR 300.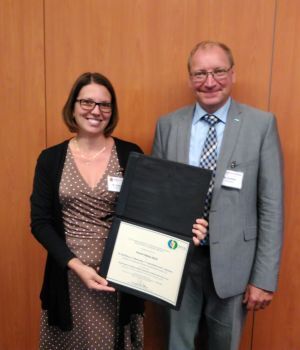 Previous activities
Meetings of the Working Party

2009 June, in Bled, Croatia (European Two Phase Flow Meeting)
2008, August 24, in Prag, Czech Republic
2007, July 7 in Leipzig, Germany (ICMF)
2006, June 7, in Lausanne, Switzerland (European Two Phase Flow Meeting)