Process Intensification Award

for

Industrial Innovation
Award winners 2017

The 2017 EFCE Process Intensification Award for Industrial Innovation
has been awarded to the innovation
"Compact Heat Exchanger & Reactor for process intensification made by additive manufacturing / First use case: H2 On-Site"
developed by
Air Liquide
Centre de Recherche Paris Saclay, France

The Award was presented at the Award Ceremony of the 10th World Congress of Chemical Engineering – WCCE10 in Barcelona, Spain, on 2 October 2017. Representatives of the team were invited to give a lecture on 2 October 2017 in the topic "Hybrid process and multifunctional process" of IPIC1/EPIC6/APSPIS3 held as a joint event of WCCE10.


From left to right: Professor Oleg Pajalic, Vice President Process Innovation, Perstorp AB; Professor Jean-Marc Le Lann, EFCE Scientific Vice-President; Mr. Raphael Faure, Air Liquide; Mr. Matthieu Flin, Air Liquide; Professor Tom Van Gerven, Chairman of EFCE Working Party on Process Intensification.(photography by Alicia Garcia)
The 2017 Award is sponsored by PERSTORP AB.
About Perstorp:
Perstorp believes in improving everyday life - making it safer, more convenient, and more environmentally sound for millions of people across the world. As an industrial leader in specialty chemistry, our innovations provide essential properties for products used every day at home and work.
Perstorp's focused innovation builds on more than 135 years of experience, representing a complete chain of solutions.. Manufacturing is based in Asia, Europe and North America, with sales and support in a ll major markets. The Perstorp Group has approximately 1,500 employees and sales in 2016 amounted to more than SEK 11,3 billion.
Read more at www.perstorp.com
---
Award winners 2015

The 2015 EFCE Process Intensification Award for Industrial Innovation has been awarded to the innovation
"FLOW MINIPLANT, A TOOLBOX THAT BOOSTS PROCESS PERFORMANCE
TO A NEW LEVEL"
developed by
| | |
| --- | --- |
| MICROINNOVA, Austria | |
| in co-operation with Fraunhofer ICT-IMM, Germany | |
Download Microinnova's press release here

The Award was presented on 28 September 2015 at EPIC5 held in conjunction with ECCE10/ECAB3 in Nice, France, on 27 September to 1 October 2015.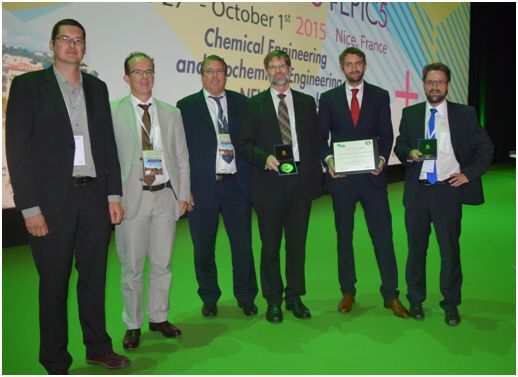 From left to right: Prof. Tom Van Gerven (WP PI Chairman), Dr. Jens Uhlemann, Prof. Jean-Marc Le Lann (EFCE Scientific Vice-President), Dipl.-Ing. Ulrich Krtschil (Fraunhofer ICT-IMM), Dipl.-Ing. Walter Linhart (Microinnova), Dr. Dirk Kirschneck (Microinnova)
© DECHEMA e.V. last update October 03, 2017