EFCE Section on Sustainability

Welcome to the web page of the Sustainabiliy Section of the EFCE.

Vision
The Sustainability Section of the EFCE envisions a sustainable process industry in the European context where economically sustainable companies operate with minimal ecological impact while delivering maximum social benefit through its products and services, as well as providing a safe and inspiring work environment. It also envisions a vibrant innovation climate within the professional community of chemical engineers based on cutting edge research. The Sustainability Section recognizes the pivotal role of chemical engineering knowledge for the transformation of the European society towards sustainable development and foresees a particular role for chemical engineers as scientific as well as societal change agents, supporting this transformation in the economic, social and political arena at the national, European and international levels.

Mission
The mission of the Sustainability Section is:
to provide a discourse platform within the EFCE on opportunities and challenges that sustainable development poses to the professional community of chemical engineers in Europe;
to pool the considerable knowledge within EFCE members with regard to a sustainable process industry as well as management of natural resources, environmental protection and socio-economic sustainability;
to identify and co-operate with key actors and allies for the transformation of European society towards sustainable development;
to provide decision makers in business, society and politics with reliable knowledge support based on scientific insight and industrial experience in all fields of interest to the process industry ; and
to facilitate education of a new generation of chemical engineers as well as current engineers and decision makers in the process industry to meet the challenges of the transition towards a sustainable process industry.

Structure
The broad agenda of the section requires the co-operation of experts in interdisciplinary sub-sections that deal with the chemical engineering aspects of the Grand Challenges our profession faces. The figure below shows the work structure of the Section, the interactions as well as the leaders of these sub-sections.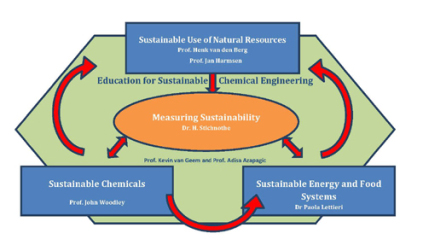 Position paper
For more details on the Section, download the position paper here.

Sub-Sections
Sustainable use of natural resources
Leader: Prof. Henk van den Berg (University of Twente)
Sustainable chemicals
Leader: Prof. John Woodley (Technical University of Denmark)
Sustainable energy systems
Leader: Prof. Richard Darton (University of Oxford)
Sustainable food systems
Leader: Dr. Almudena Hospido (University of Santiago de Compostela)
Measuring sustainability
Leader: Dr. H. Stichnothe (Thünen Institute of Agriculture)
Sustainability education
Leaders: Prof. Kevin van Geem (University of Gent) and Prof. Adisa Azapagic (University of Manchester)
New members of the Section are welcome. To apply for membership, please complete the online application form or contact one of the co-chairs.

Upcoming Activities


International Congress on Sustainability Science and Engineering
Barcelona, Spain, 2-4 October 2017
Organized as a joint event of WCCE10 by AIChE® and EFCE Sustainability Section
The urgent need for more sustainable products and processes is a huge opportunity for innovation. At the International Congress on Sustainability Science and Engineering (ICOSSE '17), we will consider the background trends that are driving this tendency, a wide range of new process technologies, and how to promote sustainable solutions.
SUBMIT YOUR ABSTRACT NOW FOR ICOSSE '17 TO…
Increase your visibility and research potential by delivering a presentation and having your abstract published in the congress proceedings.
Gain insightful feedback from leaders and experts in your field.
Get exposure and contribute to sustainability science and engineering.
TOPICS INCLUDE:
The transition to sustainable living

The Food-Energy-Water nexus in cities and rural environments
New business models: the circular economy, industrial ecology

Sustainable technologies in manufacturing and processing industries

More sustainable use of natural resources
Reduction of environmental impacts
Innovative process technologies

Bringing sustainability to the mainstream

Sustainability and life-long learning approaches
Analysis, modelling and assessment of sustainability: tools and techniques
Identifying and valuing eco-system services

Deadline: February 28, 2017

Download the ICOSSE'17 flyer here
Recent Activities
2nd Symposium on Sustainability: Sustainable Management of Natural Resources
included in ECCE10, Nice, France, 27 September - 1 October 2015
2015 International Congress on Sustainability Science & Engineering - ICOSSE '15
Balatonfüred, Hungary, 26-29 May 2015 (EFCE Event No. 732)
CHISA Special Symposium:
Sustainable process industry - bright future for chemical engineers
24 August 2014, Prague, Czech Republic
© DECHEMA e.V. last update March 02, 2017