EFCE Process Intensification Award for Industrial Innovation
Award winners 2015

The 2015 EFCE Process Intensification Award for Industrial Innovation has been awarded to the innovation
"FLOW MINIPLANT, A TOOLBOX THAT BOOSTS PROCESS PERFORMANCE
TO A NEW LEVEL"
developed by
| | |
| --- | --- |
| MICROINNOVA, Austria | |
| in co-operation with Fraunhofer ICT-IMM, Germany | |
Download Microinnova's press release here

The Award was presented on 28 September 2015 at EPIC5 held in conjunction with ECCE10/ECAB3 in Nice, France, on 27 September to 1 October 2015.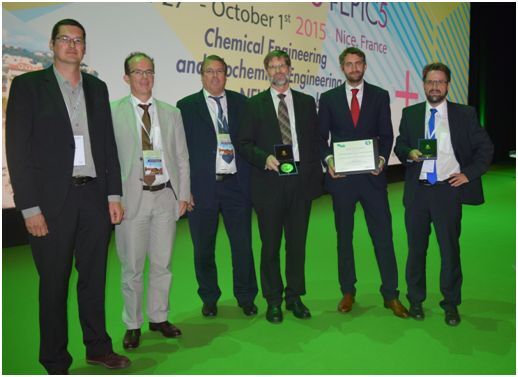 From left to right: Prof. Tom van Gerven (WP PI Chairman), Dr. Jens Uhlemann, Prof. Jean-Marc Le Lann (EFCE Scientific Vice-President), Dipl.-Ing. Ulrich Krtschil (Fraunhofer ICT-IMM), Dipl.-Ing. Walter Linhart (Microinnova), Dr. Dirk Kirschneck (Microinnova)
The EFCE Process Intensification Award for Industrial Innovation is presented to an employee or a team of employees of a company, who have made excellent contributions to industrial application of process intensification.
© DECHEMA e.V. last update May 02, 2017